The Water Sanitizer™ | Eliminates 99.99% of Viruses & Bacteria
Save Money while protecting your family
Due to the recent health concerns in the United States, there has been an extreme demand on essential products we use everyday, one of those being bottled water.  Mid Atlantic Water has developed a solution that eliminates the need to purchase and store bottled water.  The Water Sanitizer™ is designed for well or city water and will remove VOC's, chlorine, chlorine by products, taste and odor, microorganisms, cysts, and a long list of other potential contaminates.  The Water Sanitizer™ will give you an endless supply of high quality drinking water from every faucet in your home. This water is safe for drinking, cooking, and bathing.
---
Eliminate 99.99% of Viruses & Bacteria
This article from Science Daily suggests that developed nations should finance water treatment systems in the developing world to help prevent future COVID-19 pandemics. The Water Sanitizer™ eliminates dirt, sediment, Hydrogen Sulfide (rotten egg odor), Chloramines, Chlorine, VOCs, viruses, and bacteria. The 3 stage system consists of a sediment filter to capture dirt, carbon tank to remove harmful chemicals, and a UV light to kill germs.
---
Three Stage Filtration
Sediment Filter (removes dirt and small particles)
Carbon tank (removes harmful chemicals)
UV light (kills bacteria, viruses and cysts)
Whole House Carbon Filter
1.5 cubic foot media tank
Tank dimensions, 10" diameter x 54" tall
Total system height is 58 inches
1.5 cubic foot capacity
Clack C1190 valve with bypass and 1 inch male connections
Non backwashing, no drain or electrical connections needed
Large fillport for easy carbon replacement
10 gpm flow rate thru carbon filter
1.5 cubic feet of Carbon media included
Removes Hydrogen Sulfide (rotten egg odor)
Removes chloramines
Removes chlorine
Removes VOC's
Removes taste and odor
5 year manufacturers warranty on Clack control valve
10 manufacturers warranty on Vortech media tank
NSF Certified
Free Shipping To All Lower 48 States
New Fast Free Shipping, Ships in 1-3 Business Days
Made In The USA
VIQUA-VH200, UV Sterilizer
UV water filter systems are used for homes or businesses that have fecal or coli-form bacteria, and all 4 types of cysts and other micro-organisms that can be found in service and ground water supplies. This modular line of ultraviolet disinfection systems can be used in a myriad of applications where flexibility and pricing sensitivity is an deciding factor. The Viqua VH200  (9gallons per minute) stems can be used on a point-of-entry system, disinfecting the water for an entire home. The low pressure germicidal lamps provide an economical way of treating water requiring a 99.99% reduction in bacteria and viruses. These simplistic designs allows for easy homeowner maintenance. The UV lamp can be changed without interrupting the water flow. The quartz sleeve design allows for maximum UV output and operating efficiency.
Stainless steel UV chamber

Large capacity unit

9 gpm flow rates

3/4" male thread connections

Wall mounting brackets included

Can be mounted vertically or horizontally

Digital electronic control box monitors UV intensity

Digital counter, counts down from 365 days to 0 for bulb replacement

Built in audible alarm sounds if light fails or bulb intensity drops

Uses standard household electrical outlet

Safest and most effective way to eliminate microorganisms and cysts in your water

UV bulb included

5 year manufacturers warranty on UV system
Free Shipping To All Lower 48 States

New Fast Free Shipping, Ships in 1-3 Business Days
Customer Reviews
Write a Review
Ask a Question
Filter Reviews:
company
refund
order
review
48,000
business
promises
mid-atlantic
charge
house
09/12/2020
Mark H.
United States
Outstanding Help and Products
I had three different contractors and two other on-line component suppliers review my well report and suggest equipment and submit bids. Quotes ranged from $5,000 to $10,000. During my research I thankfully came across Mid-Atlantic. Aidan reviewed the report and recommended a complete system; explaining each component with clear reasons. We called him on a Saturday with a number of questions and he walked through each that issue with answers that made us feel like we had a partner in the project; not a person looking for a sale. We saved thousands of dollars and our well chemistry report is now perfect. We love our water treatment system and have recommended Mid Atlantic to our friends.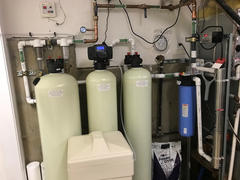 04/04/2020
John M.
United States
No More Bottled Water or Water Filters
We got this to clean up & filter our home's water. It worked like a charm.
04/03/2020
Scott G.
United States
My Water's Safe To Drink
After reading the article "63 million Americans exposed to unsafe drinking water" from USA Today, we decided to test our water. They said rural areas had the worst water from their water treatment plants. And sure enough, we had lead in our water. So, we decided to get this water sanitation system after talking to the people at Mid Atlantic Water about it. This cleared out the lead, and our water tastes better than Fiji bottled water.
04/03/2020
Arnold W.
United States
Excellent Kit
We found out our well water tested positive for bacteria. As soon as we found out, we knew it was imperative for our families safety that we treated our water. We purchased this water sanitizer kit. We were a little were apprehensive about it at first, but we decided we would give it a shot. We're extremely happy with our results. If you have basic plumbing skills, this kit will be very easy to install. And we even called for help and got the support we needed. We went with this kit over just the UV light because we had a little sediment in our water as well as bacteria. But we knew if we had bacteria, we had other chemicals our water test didn't pick up. And the carbon filter removes chemicals from the water. So this was everything we needed. This kit is really for someone who wants to completely purify their water.
04/03/2020
Lois H.
United States
Coliform Gone!
We had coliform in our water tests. We ended up chlorinating our water supply three times but it was still there. We read up on coliform and when it's in your water, that means there are pathogens in your water that cause disease. Hubby hooked this up and did a water test.....the coliform was gone!❣️
04/03/2020
FRANK S.
United States
REMOVED THE BACTERIA IN THE WATER!!!!!!!!!!
IT REMOVED BACTERIA FROM WATER WHICH IS EXTREMELY TOXIC... WE GOT IT BECAUSE OTHER CHEAP WATER PURIFIER PACKAGES ON AMAZON WERE GARBAGE. THIS ONE IS PROFESSIONAL AND HIGH QUALITY. THE UV LIGHT WORKS AND KILLS PATHOGENS AND THE FILTER CLEANS CHEMICALS.
04/03/2020
Ray P.
United States
Works like a charm
Our installation was painless and we have no leaks. We used silicone lube on the o-rings and plenty of tape on the threaded fittings. We wanted to make sure there weren't going to be any leaks later. When you're installing the UV light, make sure you install copper lines to the light - PEX does NOT like UV light. We did coliform test before and after installation. The test came up negative for the water coming out of the UV light & filter, and positive for the water going in! We can drink our well water with confidence now!!
04/03/2020
Shane C.
United States
Excellent Customer service Mid Atlantic Water
When I decided to treat my water, I wanted to make sure I solved the bacteria/chemical problem. I'm extremely pleased with their commitment to solving all my problems. I called in to ask how my well water could get treated properly, and that led me to their Water Sanitizer. It was a little more expensive than what I wanted to pay (because it's not just a UV light), but I took the leap and it did everything they promised.
04/03/2020
David L.
United States
Easy Easy Easy to Install
My shipment arrived a day earlier than we expected. The instructions were very simple to follow and their customer service was responsive. The system was installed and has been working without issues. So I am most impressed at this point. I tested my water after installation and the E. Coli was gone. I'll test the water in a week to make sure the E. coli is gone for good.
03/21/2020
Douglas M.
United States
Nice unit
Nice kit with very easy installation
Choosing a selection results in a full page refresh.
Press the space key then arrow keys to make a selection.
"defer="defer">