Fleck 2510SXT 64,000 Grain Electronic Demand Deluxe Water Softener
Fleck 2510SXT 64,000 Grain Electronic Demand Deluxe Water Softener
Powerful Fleck 2510SXT Demand Valve.

64,000 grain capacity

High capacity resin included

Regenerates based on water used.

Stainless steel bypass included.

1" female inlet and outlet.

18x33 Salt Tank with Safety Float/Auto Shut-off and salt platform

Digital programming makes setup easy

Ships in almond color

Serves a household of 2-8 people
3-5 bathrooms
Excellent for large families with high water usage
10 year manufacturers tank warranty.
5 year manufacturers valve warranty.
NSF Certified
All water softeners ship in almond color
Free Shipping To All Lower 48 States


Made In The USA
Calcium buildup or hard water stains in and around your fixtures shows a need for a water softener, hardness levels of 7 gpg (grains per gallon) or above require a water softener. Hardness in the water will build up over time in your plumbing and water-using appliances rendering them useless. Another sign you need a water softener is an orange/brown stain in your tub or shower which signals the presence of iron in your water supply, this causes staining on fixtures in your laundry when you wash clothes, whites especially, and in your toilet bowl. A water softener will eliminate all of the symptoms, also it will allow you to use less soap, shampoo, laundry detergent etc.
People with skin conditions, such as psoriasis, eczema, or just dry skin will benefit greatly from having a water softener installed. A water softener is the only household appliance that will pay for itself over time.
How a Water Softener Works
Water Softening Process
Hard water enters the water softener system. As it passes through the resin inside the tank, the hard water minerals are attracted to the resin and the water is softened to service the home.
Regeneration Process
When the resin becomes saturated with hard water minerals, the water softener system goes automatically into regeneration. This is the process that frees the resin of hard water minerals, making it ready to soften the water again.
Brine water is drawn into the tank and rinses the hard water minerals off the resin and down the drain. Once the resin is free of hard water minerals, fresh water rinses the remaining brine water out of the system leaving the system ready for service.
Mid Atlantic Water also sells a complete line of Commercial Water Filtration Systems, which include, Water Softeners, Acid Neutralizers, Iron Filters, and more. The system comes in 1 1/2, 2-inch, and 3-inch pipe sizes. We can also assist you in designing a system for your specific needs, with support direct from our manufacturer. For questions or to order one of our commercial systems contact us.
Customer Reviews
Write a Review
Ask a Question
Filter Reviews:
water
iron
plumbing
resin
grain
08/14/2020
Chris C.
United States
Working just fine
Not hard to install if you have a little plumbing know how. I did have to add the resin which is a little messy. Brought the water from 24 grain with 2.5 iron down to less than 1. Seemed easy to program (if I did it right).
05/21/2020
Sean H.
United States
Great company, great setup
Working with Mid Atlantic to customize the system that I needed for my house, I got a better system than Culligan had installed for half the price. Thanks!
03/27/2020
Haybert L.
United States
The BEST!
Best price! Install not as hard as i anticipated! Maintenance very easy and inexpensive! Great company!
03/24/2020
Westley W.
United States
Awesome results
Gave the values of water test, type and size of the well. Recommendation was accepted. Units were installed and run thru their cycles. Almost immediately water quality improved. MUCH better. Questions were answer during the installation process (internet) fairly quickly.
03/21/2020
Wally R.
United States
Great system
I installed the system myself. An ieasy install and easy maintenance.
03/21/2020
Paul R.
United States
5 Bathroom House
I bought these about 4 years ago and I've been very pleased with them. We had a professional plumber install them and run the pipes. He actually mixed up the order and put the acid neutralizer where the softener was supposed to go and vice verse. However, I was able to switch them myself no problem. I got the acid neutralizer because we saw green streaks in our tubs. I haven't seen any new green streaks since we've had it. The acid neutralizer is pretty much no maintenance. There's no excess water that needs to be drained or anything like that. The water just enters and leaves the tank whenever you use water in your house and you don't even realize it's there. The water softener requires a little more maintenance. We put a bag of salt in the salt tank every couple weeks. We also had to install a drain line for the water softener. I was able to tie into a PVC drain pipe in our basement. I didn't want the drain line from the water softener to run across the floor so I actually ran it along the ceiling. The water softener must have a pump because it pushes the water up just fine. That made my installation much easier. After installing the water softener, I no longer have that "squeaky clean" feeling after taking a shower. Instead I always feel a little slick. It's actually a better feeling because the "squeaky clean" feeling is actually dirt that's in your water. The water softener will also preserve a lot of our appliances because it eliminates minerals in the water that wear appliances down over time. I've very satisfied with this purchase and I would highly recommend it.
03/21/2020
Nicholas G.
United States
Fleck 5600SXT 48,000 Grain Water Softener
The Fleck 5600SXT 48,000 Grain Water Softener and neutralizer combo I purchased from Mid-Atlantec was a complete kit that I self installed and am very happy with the unit. The product support was great and the price was great as well. It's worth it to buy from a company you can rely on.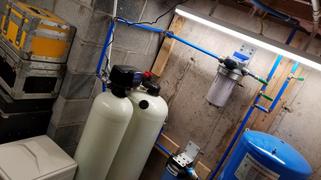 03/21/2020
Angelo S.
United States
Great system and they saved me thousands
1 yr old and running perfect! No problems.
03/21/2020
Stephen P.
United States
Great service. Great Products.
Very pleased with the equipment and the help during my DIY install.
03/21/2020
Stuart S.
United States
fleck acid neutralizer
The neutralizer is excellent quality, the control valve works flawlessly. I installed it about 2 years ago and it is keeping (along with a whole whose filter) the water clear and removing the iron I had. I also put a small reverse osmosis under the sink just to make sure that the drinking water is perfect. This unit replaced a much smaller and inferior one I had installed years ago. It is much better, it was less expensive since I did the installation and the installation went fine. I put the softener in parallel but have not had to use it yet.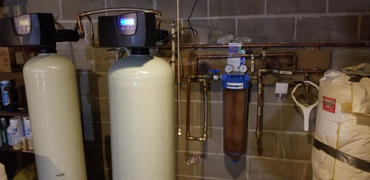 Choosing a selection results in a full page refresh.
Press the space key then arrow keys to make a selection.
" defer>