Non-Backwashing Clack 2.5 Cubic Foot (13x54) Acid Neutralizer
Clack 2.5 Cubic Foot Non Backwashing Acid Neutralizer
This is our best selling acid neutralizer. It provides large capacity for any size home large or small and requires minimal maintenance. This system normally retails for over $1200.00. This system is easy to install and maintain and is designed for ph levels as low as 5.5 using plain calcite and 4.0 using a calcite flomag mixture. Mid Atlantic Water provides tech support 7 days a week from 8 am - 5 pm is you need assistance with installation or service.
2.5 cubic foot Vortech tank with 1¼" fillport

Clack C1190 control valve

Clack bypass valve

Tank dimensions: 13" in diameter x 54" tall

Total system height with control valve is 58"

1 1/4" fillport for adding calcite media makes service easy

Eliminates corrosion of your plumbing and water using appliances
Naturally and safely raises the ph of your water supply
Serves households of 2-8 people
2-6 bathrooms
Treats PH levels of 5.5 - 6.9 using plain calcite raising to a neutral PH level of 7
For ph levels below 5.5, a calcite/flomag mix is recommended ( see the Clack 2.5 upflow acid neutralizer calcite&flomag package)
Semi translucent media tank, you can view the media level using a bright light
Large vortech distributor plate keeps flow rates up during peak water usage
Upper distributor basket keeps media from escaping the filter tank
No Backwash drain or electrical connections needed making installation easy
Vortech Upflow System, eliminates channeling and clumping of the calcite media bed
Self Cleaning Vortech distributor plate prevents clogging
Acid neutralizer ships in semi translucent almond color
5 year manufacturers warranty on control valve
10 year manufacturers warranty on media tank
#1 Best Selling Non Backwashing Acid Neutralizer in America
Free Shipping To All Lower 48 States
Ships In 2-3 business days from our manufacturer
---
The Clack 2.5 (13x54) Neutralizer Video Guide
---
Acid Neutralizer Installation Instructions
Download Installation Instructions
---
Mid Atlantic Water Uses Vortech™ Media Tanks.
Why Vortech™?

Vortech™ distribution systems utilize a more efficient distributor plate design to reduce water usage and improve system efficiency compared to traditional cone & gravel systems. This unique design when used as an upflow acid neutralizer eliminates channeling of the media bed and provides greater contact time with the calcite media. In addition, because Vortech™ does not utilize gravel, it costs less to ship due to its lighter weight.
Customer Reviews
Write a Review
Ask a Question
Filter Reviews:
water
questions
tank
installation
system
unit
customer service
calcite
knowledge
prices
12/10/2020
Charles H.
United States
A complete package for acid neutralizing
This was the easiest installation of a new/replacement plumbing component I've ever done. This also allowed me to clean up the old water lines in the time I saved installing this component. Thanks
12/04/2020
Gregory J. Marciniak
United States
Exactly what I wanted
I am quite happy with this calcite purchase.The price was reasonable and the granularity is more pebble like than powder like, exactly what I was looking for. The color is not pure white but slightly grayish. I will buy it again.
12/03/2020
Thomas B.
United States
Great service and shipping.....
Living in Alaska where your options may be limited, Mid Atlantic Water really came through with what we needed for our water system. The price was well less the half what we could buy it for locally ( local company had to order it also)..... Mid Atlantic Water had it in stock and shipped it to me for FREE... I will be posting this online locally to help out other people that could use this company... I will be using Mid Atlantic Water for other products that I may need...... Kasilof Alaska.....
12/01/2020
RAYMOND R.
United States
Nice Unit
Installation was good once I discovered that you can buy a 1in to 3/4 in adapter (goes right to plastic pipe) from softenerparts.com. which is a Clack part. The rest of it went easy; spent a good deal of time in Home Depot and Lowes looking for but not finding adapters for this pipe conversion. Water acidity for my setup is measuring about 10 times less acidity.
11/27/2020
Thomas S.
United States
Acid Neutralizer Domehole Funnel
installed a new acid neutralizer and used the domehole funnel. This thing worked like a charm. 1 bag of bedding and 4 bags of calcite and I was done in no time. The long neck stayed in place while pouring the mineral into the large funnel and emptied the funnel every time. Highly recommended.
11/16/2020
Stephen A.
United States
2.5 cu ft Acid Neutralizer
Very satisfied with the purchase and delivery of the Acid Neutralizer. Product came in perfect condition. Fittings were different than expected, but the correct fittings were delivered very quickly after I contacted them. Overall very good buying experience.
10/28/2020
Douglas S.
United States
Very satisfied.
Excellent results with a ph level of 7.00. Easy to install in my water system with the help of the videos.
10/08/2020
virgil d.
United States
domehole funnel
I liked the funnel and how it fit in the tank would buy again
10/03/2020
Phillip B.
United States
Non-Backwashing 2.5 Cubic Acid Neutralizer
Great information before buying Neutralizer, install was good with you tube, follow from tech support.Shipping was delivered before time, all parts in package. Good piece of equipment to install. You tube on maintance of Neutralizer in future. Time to balance out PH on my water.
09/26/2020
Rodger B.
United States
Clack Upflow 2.0 Acid Neutralizer
The system arrived in a week with the tank and calcite boxed separately. The system was very easy to install. I used cpvc piping and connected a hose bib and ball valve just after the tank to drain the calcite dust. I marked the tank before the last bag of calcite was added for future reference. The ph was raised from 6.1 to 7.0 at the tank. Downstream in the house it was 6.7 after one week. If this doesn't improve over time, I'll mix some corasex with the calcite. The copper level in the water is now in the safe level for drinking. I'm very happy with my choice of filter and Mid Atlantic Water.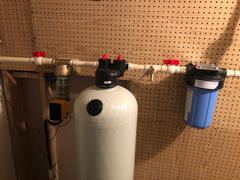 Choosing a selection results in a full page refresh.
Press the space key then arrow keys to make a selection.