Upflow Clack 2.0 Cubic Foot (12x52) Vortech Acid Neutralizer
Clack 2.0 Cubic Foot Non-Backwashing Acid Neutralizer
2.0 cubic foot vortech media tank
Tanks holds 4, 50lb bags of calcite media included
Clack C1190 control valve with 1" male threaded connections
Acid neutralizer eliminates Corrosion of Plumbing and Water Using Appliances.
Naturally and safely raises the Ph of your water supply
Serves a Household of 2-8 People
Treats PH levels of 5.5 - 6.9, when using plain calcite raising the PH level to neutral 7
4, 50 lb bags of calcite included with system
Side or top mounted fillport makes adding calcite media easy
Upper distributor basket keeps media from escaping the filter tank
Non Backwashing system, no waste water to your septic system
No drain or electrical connections needed making installation simple
Easy to Install, can be installed as an upflow or a downflow system
5 year manufacturers warranty on control valve
10 year manufacturers warranty on media tank body
Free Shipping To All Lower 48 States
---
Acid Neutralizer Installation Instructions
Download Installation Instructions
---
Mid Atlantic Water Uses Vortech™ Media Tanks.
Why Vortech™?

Vortech™ distribution systems utilize a more efficient distributor plate design to reduce water usage and improve system efficiency compared to traditional cone & gravel systems. This unique design when used as an upflow acid neutralizer eliminates channeling of the media bed and provides greater contact time with the calcite media. In addition, because Vortech™ does not utilize gravel, it costs less to ship due to its lighter weight.
Customer Reviews
Write a Review
Ask a Question
Filter Reviews:
installation
water
tank
Mid Atlantic
calcite
video
support
PH LEVEL
water softener
Three
04/06/2022
Dale H.

United States
DOES EXACTLY WHAT IT'S SUPPOSED TO DO!
Easy,bullet-proof installation. No moving parts and it does exactly what it's supposed to do. The hardest part is getting the Calcite into the tank. Raised my PH from 6.8 to a perfect 7.6! I had also previously installed the same item in my daughter's water system. Her PH was 5.2. Following Aiden's recommendation I added 2 lbs. of Flo-Mag for every bag of Calcite. The PH went to 7.8 and then leveled out to a perfect 7.4. With both systems it was installed between a backwashing iron filter using Katalox Lite media and a 40,000 grain water softener. Tech support via text message was fast and courteous. I definitely recommend this product.
04/06/2022
Dale H.

United States
Heavy Duty Funnel
I haven't had to use it yet because the acid neutralizer doesn't need service but I bought it to have on hand when my daughter's and my own do need to be serviced. The funnel is pricey but it's the right tool for the job. It much more ruggedly made than I thought it would be. Really thick plastic and should last a lifetime.
04/01/2022
Travis P.

United States
Easy set up and installation
I installed this to resolve a low PH issue in my home. PH was around 5.4, and it was doing some interesting things to my daughters hair. It took around 2 months to get the unit once it was ordered. It came via lift gate truck on a pallet. The delivery was great, and the unit was complete with no damages or issues. The tank is a fairly simple fiberglass tank and once you fill it with neutralizer and water it isn't going anywhere. I watched the videos from Mid Atlantic, and they were very clear and complete. Hook up was simple. Although the unit comes with bypass valves, I would also recommend installing shut off valves on the input and output to simplify things when you need to refill or if there are other issues.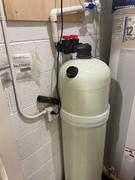 03/22/2022
Richard D.

United States
Superior Calcite
I have a vortex tank and other brands would flush out of the system during the backwash cycle. This calcite is more dense and stays in the tank.
03/21/2022
Kevin P.

United States
2.0 acid neutralizer
Easy install. The tank was missing the media fillport cap. I sent them a message and one was supposed to ship but I never received it. I was able to repurpose the one off my 15 year old softner. PH is now between 6.8 and 7.2.
03/20/2022
Karen C.

United States
Works great
Love it Highly recommend
03/11/2022
ugur y.

United States
does its job
this made me pass water inspection... thanks so much!
02/25/2022
Justin D.

United States
Had to cancel order
The company was very responsive, I give them credit for that. There was a part unavailable and it pushed back production for 3 months, after another issue came up I said forget it I need a refund and they handled it quickly and professionally.
02/25/2022
michael g.

United States
Great service
Fairly easy to install and prompt replies to questions I had. Great service, highly recommend.
02/20/2022
Karen C.

United States
Neutralizer
Just had this installed last week, did the ph test today and am very pleased with the results. We had our copper pipes replaced with pex pipe and so we had the plumber install the unit. He had a difficult time putting the calcite in it with the funnel it came with because it didn't fit the opening, but used something else he had. It's been a long time waiting due to shipping issues and the pandemic, but I am glad I did wait because I am pleased with the final results.
Choosing a selection results in a full page refresh.
Press the space key then arrow keys to make a selection.
"defer="defer">