Non-Backwashing Clack 1.5 Cubic Foot (10x54) Acid Neutralizer
About the Clack 1.5 Cubic Foot Upflow Acid Neutralizer Vortech Tank & Calcite
This is an excellent system if you're on a budget and need to get an acid neutralizer installed. This system normally retails for $895.00. This system comes complete and requires some minor assembly before installation.

The non backwashing (or upflow) acid neutralizer does not require a drain line or electricity. It can easily be installed anywhere.
We recommend installing the unit in the upflow mode. That means as you use water, it travels down the center distributor tube and up through the media bed, just as if it were being backwashed. The upward motion of water through the media bed eliminates channeling and solidification of the calcite media, while at the same time does not waste any water like a backwashing system.
Backwashing systems on average discharge 100-150 gallons during the backwash cycle - which typically goes into your septic system. The upflow system is the most effective, efficient and safest way to raise your PH level in your household water supply.
Along with the Non-Backwashing Clack 1.5 Cubic Foot (10x54) Vortech Tank Acid Neutralizer, a fill funnel, a service funnel, and three (3) bags of calcite media. The 1.5 cubic foot acid neutralizer tank dimensions are 54" tall (58" with control valve) and 10" in diameter.
The Clack C1190 control valve is non-backwashing, meaning it doesn't require any electricity or a drain line. It also comes with a built-in bypass with single ball valves that lets you control the flow coming into the unit and going out of the neutralizer. Also, it has 1" threaded male adapter connections that rotate 365 degrees, which makes installation much easier.
Sizing Guide:
2-5 people in the home
1-3 bathrooms in the home
Treats pH levels of 6.0 - 6.9 using plain calcite
Raises pH level to a neutral 7
Features & Benefits:
Eliminates corrosion of your plumbing and water using appliances

Naturally and safely raises the Ph of your water supply to neutral

Upper distributor basket prevents calcite media from escaping the tank

1" 1/4 fill-port makes adding calcite media easy

Semi translucent tank allows you to see media level using a bright light

Non backwashing system, no waste water discharged to your septic system

No drain line or electrical connections needed

Acid neutralizer system ships in semi translucent almond color only

3, 50lb bags of calcite media included

5 year manufacturers warranty on control valve

10 year manufacturers warranty on media tank

NSF Certified

Free Shipping To All Lower 48 States

Ships in 1-3 Business Days

Made in the USA
Customer Reviews
Write a Review
Ask a Question
Filter Reviews:
calcite
water
price
acid neutralizer
wonders
range
gravel
application
quote
1100
04/15/2020
Greg B.
United States
My Mid Atlantic neutralizer purchase.
My neutralizer came in 3 days. Support was very good answering numerous questions. Using Shark bites made installation easy! Will do business with Mid Atlantic in the future. Thank you, Greg -Connecticut
04/14/2020
Robert F.
United States
Customer service
This was an easy transaction. I asked a few questions of customer service about my needs after a water test. They were very responsive and quick. Once ordered I received my system pretty quickly. One item was not in the original shipment, but was rectified with minimal effort. Very easy to install with the enclosed instructions. Had my system up and running in a few hours. Highly recommend MidAtlantic Water for your needs!!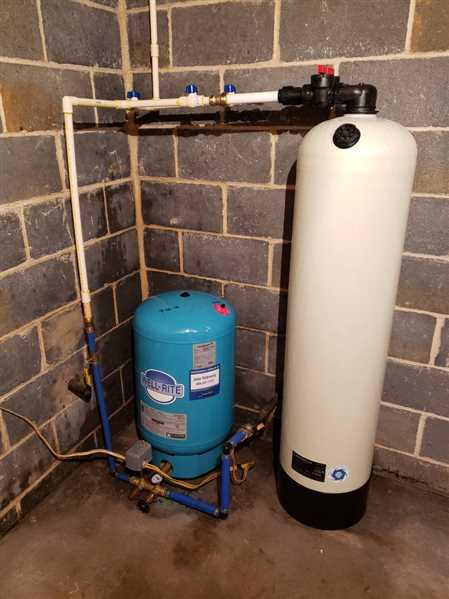 04/13/2020
Scot O.
United States
Good Product with available personal assistance
I purchased both Fleck's Acid Neutralizer and Water Softener. I appreciate being able to call and receive personal assistance. Acid Neutralizer does make your water harder, and that is just part of neutralizing the acidity of water. Knowing that, you may want to look into a softener that will remove a greater ppm of hardness from the water. All in all, Aidan was a great helped when I reached out to him.
04/11/2020
John K.
United States
SATISFIED
The most notable feature about this unit, is the filter plate. This eliminates the need for bedding. The next significant feature is that theed tank is the most translucent in the industry. This allows the media clearly visible with minimal light. All topped off with a Fleck power unit.
04/06/2020
Timothy V.
United States
Best Deal!!!
Install was simple for me and literally saved me $1100 over quote from "certified water specialist" I had acidic water and had pex brass fittings failing, so time will tell if this is the solution.
04/04/2020
Adam L.
United States
Wonderful Product
Great product. Does what it's supposed to do. And their price was good too.
04/04/2020
Kenneth B.
United States
A box of mineral
Let's see, it is a heavy box of mineral I added to my water conditioner. It slid through the funnel quite nicely, but was a little dusty ( not unexpected). I suspect it is doing its job, though I haven't tested the water. I'm not sure what else one can say.
04/04/2020
james p.
United States
Calcite Media
Was very happy with service and the Media.
04/01/2020
John R.
United States
03/31/2020
monique l.
United States
Great product. Great tech services. Great price
our business will buy again thanks!!
Sizing Guide
Tank Size


Number of Bathrooms in Home

Number of People in Home

Flow Rate

pH Range

1.0 CF

(10" x 44")

1 - 2
2 - 4
5 GPM
pH 6.0 - 6.9

1.5 CF

(10" x 54")

1 - 3
2 - 5
7 GPM
pH 6.0 - 6.9

2.0 CF

(12" x 54")

2 - 3
2 - 8
10 GPM
pH 6.0 - 6.9

2.5 CF

(13" x 54")

2 - 4
2 - 8
12 GPM
pH 6.0 - 6.9

3.0 CF

(14" x 65")

2 - 5
2 - 10
12 GPM
pH 6.0 - 6.9

1.0 CF Blend

(10" x 44")

1 - 2
2 - 4
7 GPM
pH 5.0 - 6.0

1.5 CF Blend

(10" x 54")

1 - 3
2 - 5
7 GPM
pH 5.0 - 6.0

2.0 CF Blend

(12" x 54")

2 - 3
2 - 8
10 GPM
pH 5.0 - 6.0

2.5 CF Blend

(13" x 54")

2 - 4
2 - 8
12 GPM
pH 5.0 - 6.0

3.0 CF Blend

(14" x 65")

2 - 5
2 - 10
12 GPM
pH 5.0 - 6.0
Choosing a selection results in a full page refresh.
Press the space key then arrow keys to make a selection.