Backwashing Fleck 2510SXT 2.5 Cubic Foot (13x54) Acid Neutralizer
Fleck 2510SXT 2.5 Cubic Foot Backwashing Acid Neutralizer
This is our best selling backwashing acid neutralizer. The Fleck 2510SXT Neutralizer provides high flow rates, strong backwash cycle and a large capacity to keep your water neutral during usage. Fleck is the most reliable control valve in the industry.
Fleck 2510SXT Backwashing Acid Neutralizer
2.5 cubic foot capacity Vortech media tank
Vortech tanks use 30% less water during backwash
Fleck 2510SXT digital control valve
1" Stainless steel bypass valve
Tank dimensions 13" diameter x 54" high
Total unit height with control valve is 62"
Media tank holds 5, 50lb bags of calcite media (included)
Large fillport makes adding calcite media easy
Vortech tanks use 30% less water to backwash the calcite media bed
Semi translucent media tank allows you to view the media level using a bright light
User friendly digital controls provide quick and easy setup.
Naturally and safely raises the Ph of your water supply
Serves a household of 2-8 people
Treats PH Levels from 5.5 to 6.9 with plain calcite raising the PH level to neutral &
For PH levels below 5.5, a calcite/flomag mix is recommended (see Fleck 2510SXT 2.5 cubic foot acid with calcite/flomag package)
5 year manufacturers warranty on control valve
10 year manufacturers warranty on media tank
#1 Best Selling Backwashing Acid Neutralizer in America
Free Shipping To All Lower 48 States
Ships In 1-3 Business Days
Mid Atlantic Water uses Vortech™ Tanks.

Think Green
In order to regain a softener's or filter's ability to remove contaminants its control valve must be able to go into a backwash cycle to effectively "clean" the media before it can be regenerated. Traditional systems produce large amounts of waste water during the backwash process and consume a high volume of salt used to condition the water. Vortech™ water softeners and filters reduce backwash water and frequency by 30% and reduce salt consumption, reducing the impact on the environment.
Why Vortech™?
Vortech™ distribution systems utilize a more efficient distributor plate design to reduce backwash and improve system efficiency compared to traditional cone & gravel systems. This unique design provides greater "lift" and "action" throughout the entire width of the mineral tank during a backwash cycle, whereas traditional cone and gravel systems channel up through the media causing areas of very limited movement. In addition, because Vortech™ does not utilize gravel, it costs less to ship due to its lighter weight.
Customer Reviews
Write a Review
Ask a Question
04/11/2020
John K.
United States
SATISFIED
The most notable feature about this unit, is the filter plate. This eliminates the need for bedding. The next significant feature is that theed tank is the most translucent in the industry. This allows the media clearly visible with minimal light. All topped off with a Fleck power unit.
04/06/2020
Timothy V.
United States
Best Deal!!!
Install was simple for me and literally saved me $1100 over quote from "certified water specialist" I had acidic water and had pex brass fittings failing, so time will tell if this is the solution.
04/04/2020
Adam L.
United States
Wonderful Product
Great product. Does what it's supposed to do. And their price was good too.
04/04/2020
Kenneth B.
United States
A box of mineral
Let's see, it is a heavy box of mineral I added to my water conditioner. It slid through the funnel quite nicely, but was a little dusty ( not unexpected). I suspect it is doing its job, though I haven't tested the water. I'm not sure what else one can say.
04/04/2020
james p.
United States
Calcite Media
Was very happy with service and the Media.
04/01/2020
John R.
United States
03/31/2020
monique l.
United States
Great product. Great tech services. Great price
our business will buy again thanks!!
03/31/2020
willy s.
United States
Finally Fresh Water
This is the best money spent so far. I'll need some time to be able to really see and tell you. But for the couple weeks we've had it it's been great water smells wonderful, feels fresh and clean. It taste good as well. I installed it my self very easy to do. I LOVE IT. Thank you Mid Atlantic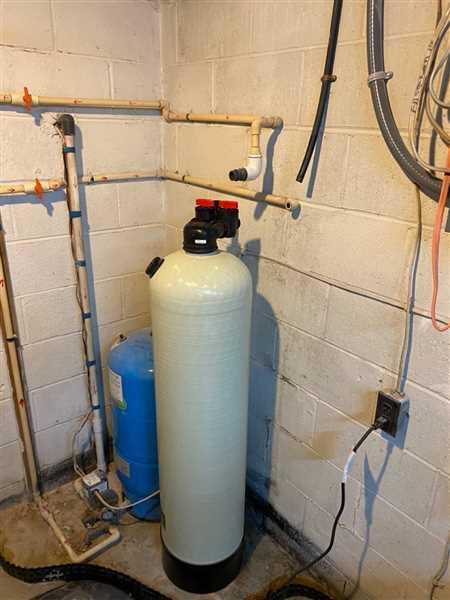 03/28/2020
Mario S.
United States
Great Unit & Great Customer Support
Good unit, working as expected!!
03/28/2020
John M.
United States
It works great! very reliable.
very reliable. Like the vortex plate vs gravel. Have a 4 x 48" big blue 5 micron filter before the inlet. Backwashing was not an option for this application. The unit arrived on time and undamaged. Very happy with Mid Atlantic.
Choosing a selection results in a full page refresh.
Press the space key then arrow keys to make a selection.